New zone of gold mineralization revealed in initial trenches on the eastern edge of 5km-long Central-Pau de Merenda target corridor at Cabral's Cuiú Cuiú
Vancouver, British Columbia – November 19th, 2018 – Cabral Gold Inc. ("Cabral" or the "Company") (TSXV: CBR) is pleased to announce the identification of Mutum, a new zone of gold mineralization within the Central – Pau de Merenda mineralized corridor at the Cuiú Cuiú Project, Pará state, northern Brazil.
Highlights
Trenching within the 5km long Central – Pau de Merenda mineralized corridor has revealed a new and previously untested zone of gold mineralization which has been named Mutum located approximately 1.5km NW of the Central gold resource and 700m SE of the Pau de Merenda target at Cuiú Cuiú
Channel sampling of initial trenches at the newly discovered Mutum target returned values of 1.0 g/t Au over 32m (including 7.9g/t Au over 2.5m), and 0.9 g/t Au over 16.5m, and 0.9 g/t Au over 25.5m. The intersections define a NW trending zone of stockwork mineralization with a strike extent of at least 150m. The zone is open in terms of both width and strike extent.
Channel sampling of a trench at the Pau de Merenda target returned 4.1 g/t Au over 15m including 23.5 g/t Au over 1.6m in an area where historic drilling intersected 1.1 g/t Au over 30m and 1.8 g/t Au over 47m. A small pit, and an auger sample returned values in top-of-saprolite sampling of 18.7 g/t Au and 2.7 g/t Au, 110 – 220m to the NW respectively.
Mutum Discovery
The Mutum target is located on the eastern side of the NW sector of the 5km-long Pau de Merenda – Central mineralized corridor. The corridor is defined by an extensive gold-in-saprolite geochemical anomaly outlined by recent auger drilling1 (Figure 1, Figure 2). Auger drilling in this corridor was prioritized in particular to test for extensional targets to the NW and SE of Cabral's Central Gold Resource (0.5MMoz of gold: 5.9MMt @ 0.9g/t Au in the Indicated category and 8.7MMt @ 1.1g/t Au in the Inferred category).
Mutum is a previously untested area located approximately 1.5m NW of the Central deposit and approximately 700 m SE of the Pau de Merenda target. Initial trenching at Mutum has revealed the presence of strong hydrothermal alteration and stockwork quartz veining in weathered bedrock (saprolite).
Several NE trending trenches were developed over a 150m strike length (Figure 3) and from north to south returned 1.0g/t Au over 32m, including 7.9g/t Au over 2.5m, 0.9g/t Au over 16.5m and 0.9g/t Au over 25.5m defining a NW trending zone. The zone is open along strike to the NW and SE, with the higher grade interval of 4.33g/t Au over 5m in the most northerly trench being open in terms of width. Rock chip samples from sub-cropping veins exposed in artisanal placer workings extending up to ~40m SW of this last sample position have returned grades of up to 66.3 g/t gold (Figure 3).
Further trenching and surface sampling is planned to define the surface extent of this new zone.
See Cabral Press Releases dated 5 July 2018 and 27 August 2018.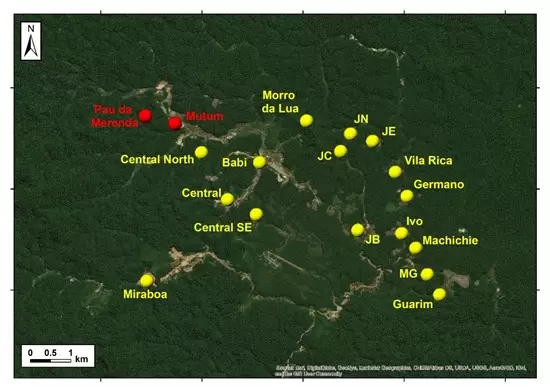 Figure 1: Location of Pau de Merenda in relation to target areas under evaluation for exploration and resource development in the Cuiú Cuiú Project area.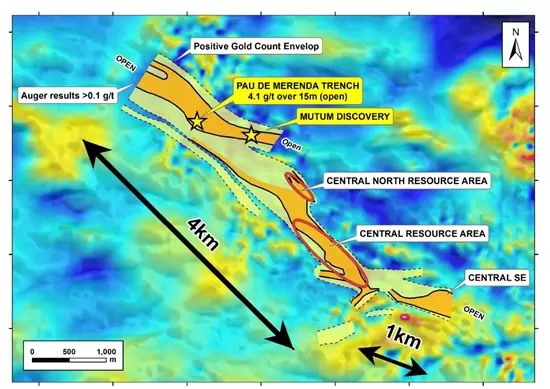 Figure 2: Reduced to pole magnetics, showing the location of the Pau de Merenda trench result and Mutum discovery in relation to the defined resources and the currently defined extent of the prospective exploration corridor.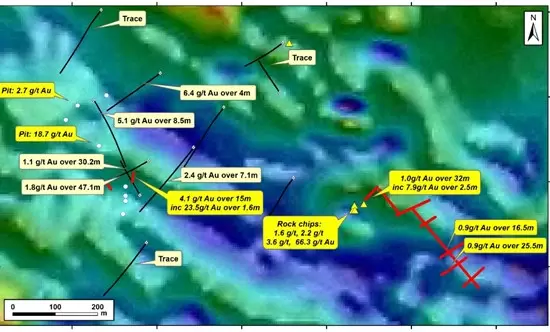 Figure 3: Mutum discovery trench results (lower right), and Pau de Merenda historical drill results and recent trench results (left). Trenches are shown in red and pit locations as white points. Historical drill traces are shown in black.
Pau de Merenda Target
The Pau de Merenda target is located to the NW and 2km along strike from the northern limit of the Central gold resource, and 700m from the new Mutum discovery (Figure 2, Figure 3). At Pau de Merenda, a >100ppb gold-in-soil anomaly is centred around a NW-trending ridge where the recent trench was sited. The ridge has deep residual soil cover, masking the bedrock exposure, and is flanked by extensive artisanal gold workings in the surrounding drainage systems. The top-of-saprolite auger and pitting/trenching program were particularly focused at understanding the structural controls on mineralization intersected in historic drilling.
Trenching was sited near historical drilling at the SE end ridge (Figures 3 and 4), and returned 4.1 g/t over 15m (with an interpreted true width of 14.1m) including 23.5g/t Au over 1.6m. The zone is open in terms of width, with the sample in the NE end of the trench returning 60.7 g/t gold over 0.3m, and is interpreted to be the up dip extension of the mineralized zone intersected in diamond drill holes CC_20_07 (1.8 g/t Au over 47.1m), and CC_19_07 (1.1 g/t Au over 30.2m) (Figures 4 and 5).
The residual soil cover proved too deep to allow for further trenching along strike, but the interpreted NW strike extension is reflected by positive results in pitting, which returned values in top-of-saprolite sampling of 18.7 g/t Au and 2.7 g/t Au, 110 – 220m to the NW respectively.
Alan Carter, President & CEO commented "the identification of a new zone of surface gold mineralization within the Central – Pau de Merenda target corridor is highly significant and lends further credence to our belief that this area will produce additional resources at Cuiú Cuiú. The higher grades from the trenching at the Pau de Merenda target itself further support the potential to expand the mineralization at that target and define another deposit. I would like to extend my congratulations to our exploration team in taking two more important steps in demonstrating the significant gold potential of the Cuiú Cuiú project".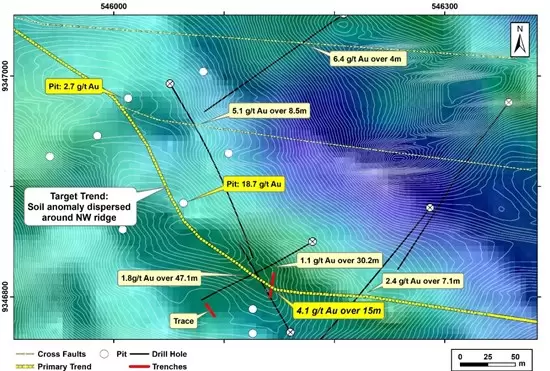 Figure 4: Pau de Merenda trench and pitting results related to significant historical intersections over RTP magnetics. 2m contour intervals are superimposed. The axis of the principal structure is marked with the bold dashed line.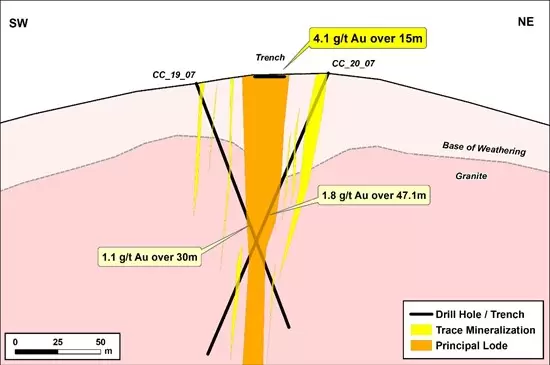 Figure 5: Pau de Merenda cross section of new trench results and historical drilling.
Marketing
Cabral is pleased to announce the appointment of Sean Kingsley as Manager Corporate Communications. Mr. Kingsley has over 12 years of experience within the mineral exploration and mining sector.
The Company wishes to announce that it has also retained Proactive Investors LLC ("Proactive Investors") to assist in creating video content and editorial articles on the Company's developments. Proactive Investors is a leading multi-media news organisation, investor portal and events management business with offices in New York, Sydney, Toronto, Frankfurt, London and Vancouver. The agreement has a 12-month term. Proactive Investors have no present interest, direct or indirect, in Cabral or its securities.
About Cabral Gold Inc.
The Company is a junior resource company engaged in the identification, exploration and development of mineral properties, with a primary focus on gold properties located in Brazil.
The Company owns the Cuiú Cuiú gold project, which covers the largest of the historical placer gold camps in the Tapajós region of northern Brazil, having yielded an estimated 2MMoz of gold from the overall 20-30MMoz gold produced during the Tapajós gold rush. Placer workings cover over 850ha on the property but are largely exhausted. The few remaining artisanal workers now process gold from palaeovalley placer deposits and in places exploit high-grade gold mineralization from quartz veins in saprolite (shallow highly weathered bedrock).
Earlier this year, Cabral reported an updated NI 43-101 Mineral Resource Estimate[2] totalling 5.9MM tonnes grading 0.9 g/t Au (Indicated) and 19.5MM tonnes grading 1.2 g/t Au (Inferred), or 0.2MM ounces and 0.8MM ounces of gold, respectively. That estimate was based on four deposits drilled prior to the cessation of exploration in 2012.
The Company's current program is designed to improve understanding and expand existing prospects, evaluate newly identified discoveries, prioritize drill targets, and to build upon the existing resource inventory.
FOR FURTHER INFORMATION PLEASE CONTACT:
Alan Carter
President and Chief Executive Officer
Cabral Gold Inc.
Tel: 604.676.5660
Dr Adrian McArthur, B.Sc. Hons, PhD. FAusIMM., a consultant to the Company as well as a Qualified Person as defined by National Instrument 43-101, supervised the preparation of the technical information in this news release.
Neither the TSX Venture Exchange nor its Regulation Services Provider (as such term is defined in the policies of the TSX Venture Exchange) accepts responsibility for the adequacy or accuracy of this release.
Forward-looking Statements
This news release contains certain forward-looking information and forward-looking statements within the meaning of applicable securities legislation (collectively "forward-looking statements"). The use of the words "will", "expected" and similar expressions are intended to identify forward-looking statements.
These statements involve known and unknown risks, uncertainties and other factors that may cause actual results or events to differ materially from those anticipated in such forward-looking statements. Such forward-looking statements should not be unduly relied upon. This news release contains forwardlooking statements and assumptions pertaining to the following: strategic plans and future operations, and results of exploration. Actual results achieved may vary from the information provided herein as a result of numerous known and unknown risks and uncertainties and other factors. The Company believes the expectations reflected in those forward-looking statements are reasonable, but no assurance can be given that these expectations will prove to be correct.
Notes
Gold analysis has been conducted by SGS method FAA505 (fire assay of 50g charge), with higher grade samples checked by FAA525. Analytical quality is monitored by certified references and blanks. Until dispatch, samples are stored under the supervision the Company's exploration office. The samples are couriered to the assay laboratory using a commercial contractor. Pulps are returned to the Company and archived. Channel sampling is conducted in the excavations using a hand-trenching tool over exposed faces to maintain a consistent sample. Under the agreement with the Cuiu Cuiu condominium, local artisanal operators can process mineralization to a depth of 30m, unless otherwise negotiated. Historical drilling results are reported as down-hole length weighted intersections unless otherwise stated.